The 20th Engineers executed two deployments to Iraq. Click one of the periods below to visit information on a particular deployment.

---



Task Force Lumberjack


151st Engineer Company (Route Clearance)
North Carolina Army National Guard
< UNDER CONSTRUCTION >

On xx xx 2012 the 151st Engineer Company arrived at Forward Operating Base Lagman, Zabul Province, Afghanistan, under the command of Captain Thomas Grabos. The company was part of Task Force Lumberjack, based on the 20th Engineer Battalion (the Engineer headquarters for Regional Command South).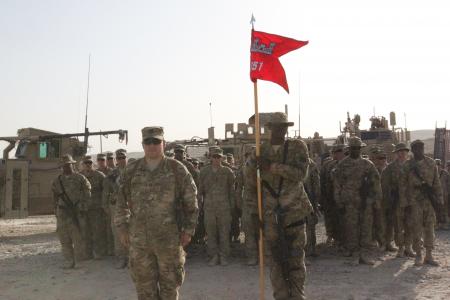 On 23 August 2012 the 151st Engineer Company executed a "relief in place" with the 883rd Engineer Company, taking over responsibility for route clearance missions in Zabul Province.






---
Forward Operating Base Lagman
View Larger Map
---

From a report from the North Carolina National Guard on 4 September 2012:

"My guys have been geared up for this since before we were alerted that potentially this would be our mission," said Grabos. "We are excited and ready to take on the challenge."

The relief in place is a long standing tradition between units of the United States Armed Forces who, while deployed, transfer authority of their line units and area of operation to the newly-arrived units in theatre.

"The past two weeks have been very informative; learning tactics and understanding the overall battlefield and getting a good assessment of our possible situations," said Grabos. "There was a lot we were able to absorb immediately; things you can't really teach back home, and you can't really put it all together until you get here and see it."

According to U.S. Army Spc. Ryan Rawlins, a recovery truck driver, "The RIP process has gone pretty good. The 883rd has really shown us the ropes."

The RIP process takes several weeks. This ensures the change of authority between the outgoing and incoming units is done smoothly. However, since the 151st and the 883rd belong to the same battalion back home, this made the course of their transition easier than most.

"We're all in the same battalion, some of my guys deployed with [McVeigh], so we had strong bonds already," said Grabos. "There are a lot of friendships here. Guys come from the same town or went to the same school. You genuinely care about the other person, not just soldier to soldier, but because there are real friendships there."

As the 151st settles into its own battle rhythm, its soldiers expressed they plan to use the standards left by the 883rd as a guiding principle.

"I have complete confidence in the 151st," said U.S. Army Capt. James McVeigh, 883rd En. Company commander. "I suggest they follow the same TTPs we've empalced and I believe they'll be successful."

"We will continue on with what the 883rd has set in place. We have to continue to improve our foxhole," Grabos said. "I have to utmost confidence in them. These guys know what they're doing. They're going to do it well."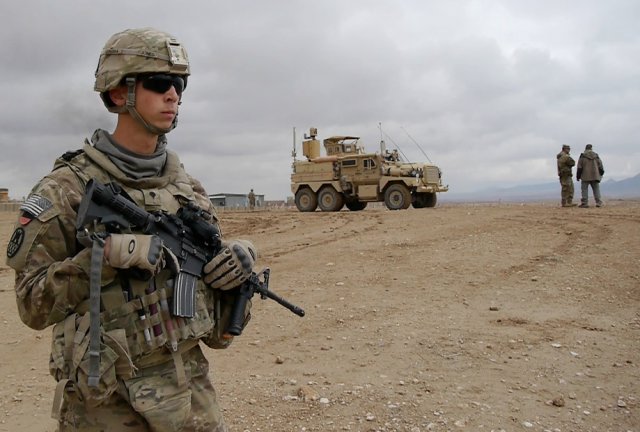 U.S. Army Spc. Robert Jones with the 151st Route Clearance Company provides security for
the 151st Engineers as they conduct counter-improvised explosive device training with
Afghanistan's 2nd Mobile Strike Force in Afghanistan, Feb. 21, 2013.
(U.S. Army photo by Maj. Brooks Little/Released)

---

From a report by Johnny Woodward, Laurinburgexchange.com, undated:

From the Heart

For the soldiers of Laurinburg's 151st Engineer Company, every holiday spent away from home takes on a special meaning.

Mindful of that reality because of his experience having a father deployed overseas, local Boy Scout Jamie Tippett organized a care package project to make the Scotland County-based engineering company's Valentine's Day a little brighter.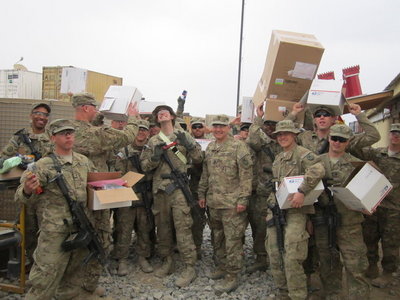 &nbsp &nbsp &nbsp &nbsp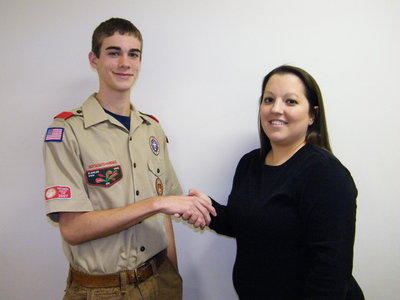 The soldiers of the 151st Engineer Company in Afghanistan receive care packages from home thanks to local boy scout Jamie Tippett's project. Jamie Tippett is seen here with Murphy-Brown's Lindsey Reneau. Murphy-Brown paid for much of the cost to ship the care packages to the 151st Engineer Company in Afghanistan.




"With my dad being in the military, I knew how much it meant to them to receive something from home," Tippett said.

The nearly 100 soldiers held a ceremony last June to mark their deployment to replace the 883rd Engineer Company in Afghanistan.

As part of his Eagle Scout project, Tippett made it his personal mission to make certain that the soldiers knew they had not been forgotten back in North Carolina.

Issuing a call for donations in December, Tippett collected hundreds of items during two drop off days at the same Laurinburg Armory called home by the 151st.

Tippett said that he received items ranging from baby wipes to batteries during the drop-off period. He also offered to pick up items from donors' homes if they were unable to make it to the drop offs.

"I had a good turnout on each of the two collection days," Tippett said, adding that he received about $1000 to pay for the shipping costs, the bulk of which came from the pork company Murphy-Brown, LLC. "The reaction to the project by Scotland County was encouraging," Tippett added.

Saying that he was only hoping for an acknowledgment that the items had been received, Tippett reported being "completely surprised" when an e-mail arrived along with a photo showing the soldiers celebrating with the care packages.

"I also got a message from one of the soldiers saying thanks. It made me feel like I had accomplished something meaningful," Tippett said.

In Afghanistan the 151st has worked clearing supply and patrol roads used by coalition forces. Almost half of the 151st had experienced an earlier deployment to Iraq or Afghanistan before being dispatched to the conflict in June.

Tippett's project followed a public request by American Legion Post 50 and the Scotland County chapter of the American Red Cross for more care packages from home in October.

At the time, Red Cross Executive Director Carol Ann lentz said that care packages were not being sent as frequently as they once were.

For those inspired by his project, Tippett encourages them to call the local armory and pitch in.

"You can just contact (the armory) and let them know that you want to do something and they will find a way for you to help out," Tippett said.


---
Click on any of the unit symbols to see information on unit personnel and operations [these are not the correct units--requires updating] .



---



Redeployment From Afghanistan



On xx 2013, the 151st Engineer Company executed a "transfer of authority" ceremony with the xx Engineer Company, and began preparations to redeploy to North Carolina.

The 151st Engineers earned the campaign streamer for Afghanistan - Consolidation II.


---