The 20th Engineers executed two deployments to Iraq. Click one of the periods below to visit information on a particular deployment.

---



Task Force Lumberjack


181st Engineer Company (Vertical Construction)
Massachusetts Army National Guard
< UNDER CONSTRUCTION >

In September 2012 the 181st Engineer Company, arrived at Forward Operating Base Apache, Afghanistan, under the command of Captain Adam Peterson. The company became part of Task Force Lumberjack, based on the 20th Engineer Battalion (the Engineer headquarters for Regional Command South). The primary missions of the 181st included construction of base camp facilities, retrograde of military supplies as part of the Afghan drawdown, and training of Afghan military engineers. The 181st Engineer Company, as a vertical construction company (carpenters, plumbers, pipefitters, electricians, etc) exchanged a platoon with the 299th Engineer Company (Horizontal Construction) (dozers, graders, dump trucks, loaders, etc) so that each of the companies would have the capability to execute a full construction mission. The company completed 18 major construction projects with a value in excess of $30 million.


---
Sendoff Ceremony for the 181st Engineer Company, 3 September 2012 at Camp Edwards, in Bourne, Massachusetts
---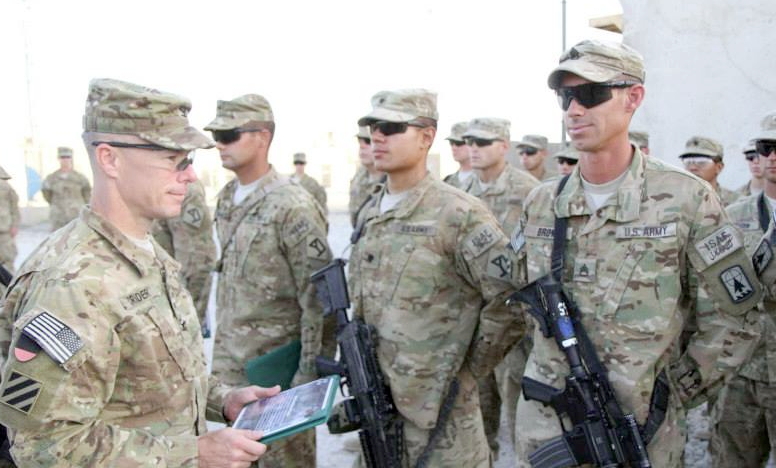 Several soldiers assigned to the 1st Platoon, 181st Engineer Company, Massachusetts National Guard,
and the 2nd Platoon, 229th Engineer Company, Wisconsin National Guard were awarded coins and
certificates of achievements by Col. James R. Crider commanding officer of the 1st Armored Brigade Combat Team,
Combined Task Force Raider, Third Infantry Division, and Command Sgt. Maj. Herbert L. Kirkover CSM of 1ABCT,
CTF-R, 3rd ID., at Forward Operating Base Apache, Zabul Province, Afghanistan, May 23, 2013.
---

By 1st Lt. Jered StokesSmall - 15 November 2012:

Engineers use civilian experience to rebuild dining facility in time for soldiers' Thanksgiving meals

Earlier this summer, a group of Afghan insurgents made their way into the secure confines of Forward Operating Base Frontenac, a small U.S. outpost in southern Afghanistan. The effects of the ensuing attack were significant to both the facilities and the soldiers station at FOB Frontenac.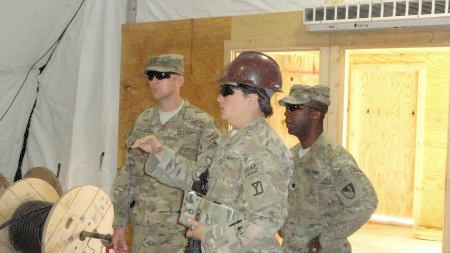 SFC Laurie Bence of Cranston, RI., 181st Engineer Company, shows progress on the Frontenac
Dining Facility to LTC Jason Kelly and MAJ Brian Hallberg of the 20th Engineers. The project
finished in time to provide Thanksgiving meals to soldiers at FOB Frontenac, who had
been without a dining facility since a Taliban attack on the FOB earlier this summer.



Nine coalition troops were wounded before all but one of the attackers were killed. The resulting combat action also destroyed the outpost's dining facility. For the last few months, soldiers have either dined in the tight confines of an austere temporary facility or opted for Styrofoam take-out containers that permitted consumption at some other location, most likely their work or living areas.




LTC Jason Kelly, commander of the 20th Engineer and Task Force Lumberjack, awards an
Army Achievement Medal to PFC Sara Click, 181st Engineer Company Company, in recognition
of her outstanding work during the construction of the FOB Frontenac Dining Facility
in Kandahar Province, Afghanistan.



Two weeks ago, soldiers from the 181st Engineer Company (Massachusetts Army National Guard) arrived to change this. Having received their marching orders from the 20th Engineer Battalion, who recently assumed responsibility for most of the construction effort in Regional Command-South, a platoon of skilled carpenters, electricians, plumbers, and welders were immediately dispatched. "This is an important effort and the very best craftsmen in our formation are on site," said Lieut. Col. Jason Kelly, commander of the 20th Engineer Battalion. "Many of the leaders and soldiers in the 181st Engineer Company make their living doing exactly what we've asked them to do. Every time I visit one of their jobsites I'm amazed at what they've done. The unit is well-led and consistently exceeds my every expectation. I was able to visit Frontenac a few days ago and they're at it again."

"The 181st soldiers have exercised a wide array of construction skills on the Frontenac Dining Facility," states CPT Adam Peterson, the Commander of the 181st Engineer Company. "As always, the platoon relied on civilian construction expertise and produced a high quality product." Sergeant First Class Laurie Bence of Cranston, RI is leading the way. When Sergeant First Class Bence is not spearheading jobs in Afghanistan, she's a master plumber in Cranston. CPT Peterson speaks highly of SFC Bence as he comments, "SFC Bence matched her expertise in the trade with leadership and management skills that brought the full capability of the platoon to bear." Morale is unbelievably high and improvisation is in full effect. The Soldiers are committed to having the facility up and running before Thanksgiving. "We're going to have our Thanksgiving meal in this building," claims Sergeant First Class Bence. "We will finish the job."


---


By Sean Teehan, steehan@capecodonline.com, December 09, 2012:

Special connection at Camp Edwards

CAMP EDWARDS - Heads turned toward the front of the function hall on Saturday as a halting, pixilated video feed of figures in military fatigues appeared on the video projector screen.

Near the back of the room, near an 8-foot Christmas tree, Laura Rockwell helped her 3-year-old son, Travis, hold an oversized set of headphones on his head as he sat in front of a laptop and used the microphone to communicate with the images on the monitor through Skype.

"Hi, Daddy," he said.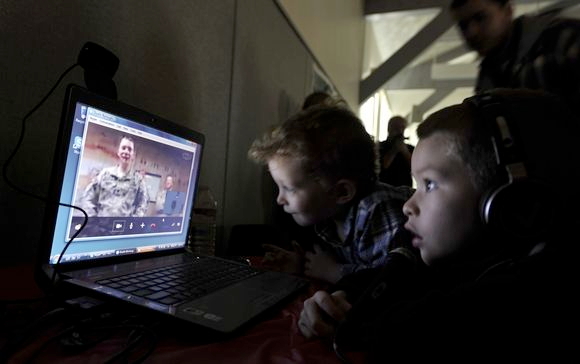 Logan Rockwell, 7, right, of Mashpee and brother Travis, 3, speak with their dad, Travis,
as family and friends of the 181st Engineer Company gather to celebrate the holidays at
a party hosted by the Family Readiness Group at Massachusetts Military Reservation.



Families of the 181st Engineer Company of the National Guard gathered at the Camp Edwards welcome center for a Christmas party hosted by the Family Readiness Group. About 100 people came to the event, which was filled with food, camaraderie and enough gifts to rival the loot in Santa's sleigh.

The 181st left Cape Cod for training in September and deployed to Afghanistan the following month. Since the company's departure, the FRG has hosted a potluck dinner, Halloween party and organized a pillow and blanket drive that netted more than 300 blankets and about 170 pillows for soldiers lacking those basic comforts, said Ann Skopek, whose son, Capt. Adam Peterson, commands the 181st.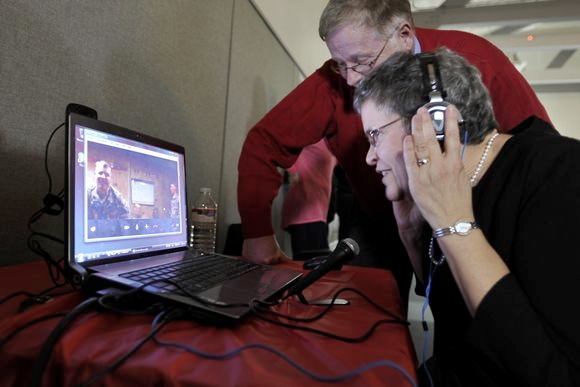 Ann Skopeck and her husband Richard Peterson speak with their son, Adam Peterson as family
and friends of the 181st Engineer Company gathered to celebrate the holidays at a party
hosted by the Family Readiness Group.



Extra money raised during the drive helped pay for Saturday's party, where every child received a personalized gift and families struggling with the financial reality of a breadwinner's deployment received presents for the coming holiday season, Skopek said.

A back room filled with Nerf Barrel Breaks, Battleship Live and Barbie's A Fashion Fairytale Glitterizer Playset resembled a child's dream.

"I think it's important for everybody to know that helping the families is also helping the soldiers," Skopek said.

The party, which took about two months to organize, was the first of the 181st family get-togethers to include a Skype connection with their loved ones overseas, Skopek said.

Inside the function hall, adults and children sat at long tables, assembling Christmas tree ornaments and other yuletide arts and crafts, while others hauled in platters of pasta, meatballs and finger sandwiches.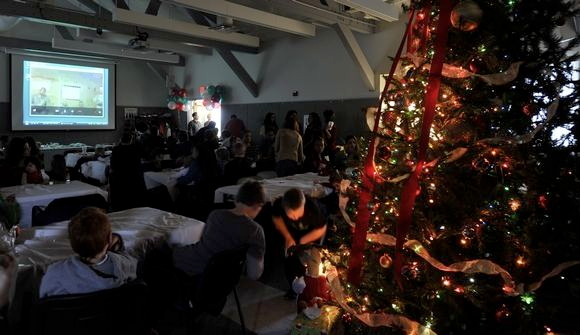 A Christmas tree and projection screen glow at opposite ends of the room as family and
friends of the 181st Engineer Company gathered to celebrate the holidays at a party
hosted by the Family Readiness Group.



Myah Travis, 8, of Plymouth sat at one of the tables using a glue stick to attach a small foam carrot nose onto a foam snowman face as her aunt, Cheryl Sweeney, 39, of Rochester, sat at another table distributing craft supplies.

"It's really hard with them gone, so it gives the families something to look forward to," said Sweeney, the FRG's youth coordinator, whose husband, Spc. Ed Sweeney, deployed with the 181st.

In the lobby, Tori DeBeaucort, 17, of Shirley and Darren Woolf, 16, of Randolph at at a table checking people in. "We'd rather them be here, but they're fighting for us," said Woolf, whose brother and father are both deployed. "It's not fun, but we get through it."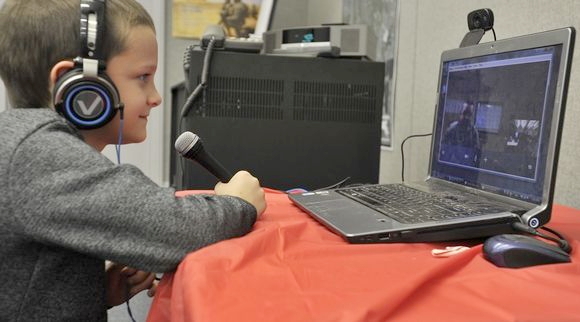 Seven year old Gregory O'Connor speaks with his dad, Ryan as family and friends of the
181st Engineer Company gathered to celebrate the holidays at a party hosted by the Family Readiness Group.



Families lined up behind the laptop where children crowded onto the chair, passing the headphones and microphone to speak with their fathers, who shared a few face-to-face moments with their families.

"He looks great; he looks healthy," Skopek said, beaming after a brief conversation with her son. "That was great."

Since the group's first potluck in September, the number of attendees has ballooned from about 10 families to a crowded room at the Christmas party, said Terri Iovine, an FRG co-chairwoman.

"With each function we have, the numbers have grown," Iovine said. "It's so fulfilling just to watch these little guys' faces light up."

The group plans to hold more parties where 181st families can get together and share special occasions, Iovine said. The group will likely plan parties for Valentine's Day and later down the road, Easter.

"Pretty soon," she said, "we'll be getting ready for (their) homecoming."


---
Click on any of the unit symbols to see information on unit personnel and operations [these are not the correct units--requires updating] .



---



Redeployment From Afghanistan



The 181st Engineer Company returned home to Massachusetts on 18 July 2013.





The unit earned the campaign streamer for Afghanistan - Consolidation III.


---