The 20th Engineers executed two deployments to Iraq. Click one of the periods below to visit information on a particular deployment.

---



Task Force Lumberjack


229th Engineer Company (Horizontal Construction)
106th Engineer Detachment (Quarry)
Wisconsin Army National Guard
< UNDER CONSTRUCTION >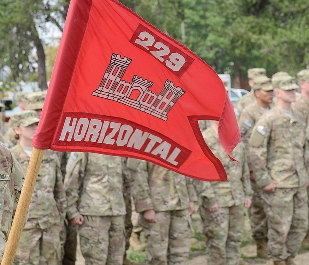 On xx 2012 the 229th Engineer Company, augmented by the 106th Engineer Detachment (Quarry) (both part of the Wisconsin Army National Guard) arrived at Kandahar, Afghanistan, under the command of Captain Jesse Augustine. The company became part of Task Force Lumberjack, based on the 20th Engineer Battalion (the Engineer headquarters for Regional Command South). The primary missions of the 229th and 106th included construction of roads and training engineers of the Afghan National Army.


---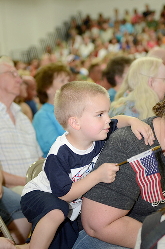 &nbsp &nbsp &nbsp &nbsp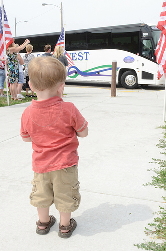 Click on an image to see more photos of the Sendoff Ceremony
---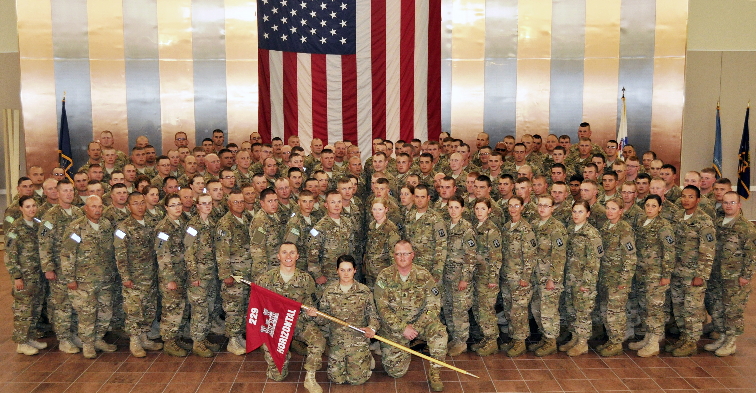 Click on the image to see the photo at full size
---

By Sgt. Kimberly Hackbarth - 22 April 2013:

U.S., Afghan engineers build road through 'Taliban center of mass'

FORWARD OPERATING BASE SHOJA, Afghanistan (April 22, 2013) -- Soldiers of Combined Task Force 4-2 (4th Stryker Brigade Combat Team, 2nd Infantry Division), 229th Engineer Company of the Wisconsin Army National Guard, and the Afghan National Security Forces, finalized road construction on a new route in the Panjwa'i district of Afghanistan, April 4.

The 229th Engineer Company worked with CTF 4-2 on a previous road construction project, but this time they also worked with Afghan engineers in a less kinetic area, said 1st Lt. Tomm Hickey, a platoon leader with 229th Eng. Company




The physical presence of the enemy wasn't felt as much as when he and his team built a road with Company B, 1st Battalion, 38th Infantry Regiment, CTF 4-2, he said.

The only people near the construction were local farmers, which provided a different challenge, said Hickey.




"It was something you couldn't just brute force your way through and tactically maneuver your way through," said Hickey. "You had to look at the political and cultural side of it."

When U.S. and Afghan forces first began scoping out the area, they learned that there were issues between residents of Panjwa'i district and Dand district because the road they planned to build crossed district boarders. There were no clear boundaries as to what land belonged to whom, said Hickey.

"At the very start, it was a unique experience for me having to go to numerous shuras with the district governors and the local maliks," said Hickey.



Infantry helps provide security for the 229th Engineer Company construction project



Not only did they build a road, but they created v-ditches down the side as away to channel water along the road to prevent flooding and to help direct water back to the fields, said Hickey.

The 3.8-km road connects the village of Haji Baba to a village to the south, Narose.


&nbsp &nbsp &nbsp &nbsp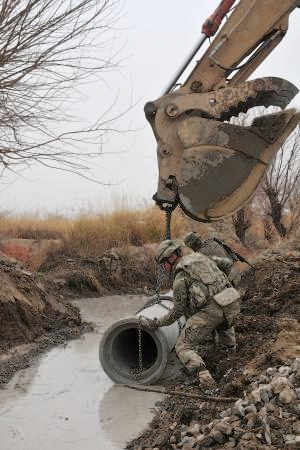 The road also provides easier transportation to Combat Outpost Khenjakak, which is where Company C, 1st Bn., 38th Inf. Regt. resides.

Capt. Ralph Parlin, the commander of C Company, and his Soldiers partnered with the local Afghan National Army, or ANA, to provide security for the engineers.


&nbsp &nbsp &nbsp &nbsp

1st Lieutenant Tomm Hickey (platoon leader, 229th Engineer Company) on the project site.
On the left he's discussing the construction with an engineer of the Afghan National Army.
On the right he's working on a culvert to help drain water from the new roadbed.



"The importance of this road from a security perspective is that the town here to the southwest (Narose) is very hard to get to," Parlin explained. "You can't get mounted vehicles there, so the ANA and [International Security Assistance Forces] have a hard time getting there."

The absence of security forces near the villages creates the condition for a Taliban safe haven, said Parlin.

"This road not only helps the citizens of Afghanistan north of here, but by culminating down into the village of Narose, it allows us to project combat power to that area in order to make it less suitable for (Taliban) command and control," Parlin said.

The new route ties into roads that come off of the villages of Nakhonay, Narose, and Haji Baba, to encourage locals to use it, said Hickey.




Completing the road was a common goal for both the Afghan and American engineers, Hickey said.

"We want to build a road for Afghanistan (and) for the Afghan people," Hickey explained. "This is their home that they're rebuilding, so I think we got to see it from the other side."

The month-long project was a "crawl-walk-run" pace for the Afghan engineers, Hickey said.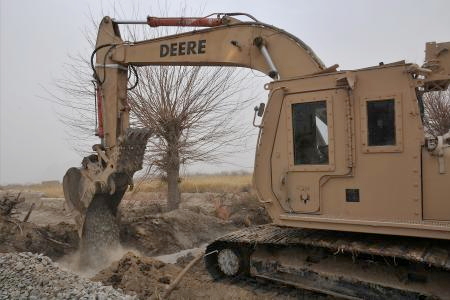 The project began with the American engineers providing most of the support then turned into both countries working together, and finished with the Afghans supplying the majority of work on the road construction, he said.

Watching the progress the Afghans made was a good thing, said Hickey.

"As the missions start progressing more and more toward retrograde, it's really nice to see us actually handing things over and kind of working ourselves out of a job," said Hickey. "It's kind of nice to hand over the torch especially knowing that they're going to keep going through here and standing up their own country."


---

By Audrey Posten, Prairie du Chien Courier - 7 August 2013:

Regal reflects on Afghanistan deployment

Throughout his nine-month deployment in Afghanistan, Jakob Regal obviously missed his family and friends. However, he also missed something a little less obvious, something people often take for granted each day—green landscape and paved walkways.

"In Afghanistan, it's all rocks, desert and shades of brown," said Regal, who returned with the 229th Engineer Company of the Wisconsin National Guard, which is based out of Prairie du Chien, on July 11. "Even the trees are shades of blah. On the [forward operating base], everything was rock, so it's nice to get back to plants and sidewalk."

The 22-year-old McGregor native has been with the National Guard for five years, since he was 17. His grandfather is commander of the McGregor American Legion Post, and spent over 40 years with the 229th. Growing up, Regal said he often went to the armory with his grandfather and helped out with Legion events. As a result, Regal said enlisting with the 229th was a no-brainer.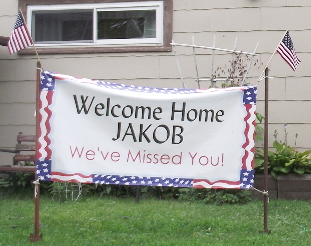 "I was just brought up with a good sense of patriotism," he said.

Over the past five years, the 229th has spent time in New Richmond, Wis., building a sports complex, as well as in the U.S. Virgin Islands, where it de-constructed an abandoned hotel.

However, the recent deployment was both Regal's and the company's first stint in Afghanistan.

"I was surprised at how well things went," Regal said of the deployment. "We're trained so much to expect the worst, so, with all that training, there wasn't any point I felt unsafe. It was really similar to drill weekend, just in a different environment."

While the 229th, which is a horizontal engineering unit, spent the deployment expanding forward operating bases and combat outposts, as well as building and improving roads, helicopter pads and other surfaces in Kandahar province, Regal had different duties.

He was part of a small group from the 229th that attached to the 181st Engineer Company out of Boston, a vertical unit that constructs buildings rather than roads. The two companies swapped platoons in order to cover more ground, and one of those swaps included a maintenance division of which Regal was a part.

Since troops had limited supplies and tools on missions, equipment often had to be sent back to base to be fixed. That maintenance support—repairing things like door latches or swapping out engines—was Regal's job throughout the deployment.

While it was different working with the 181st rather than the 229th, Regal said it was a good experience and that he enjoyed meeting new people.

Regal said the amenities available to troops differed from base to base, but that he was impressed with how easy it was for him to stay in touch with loved ones back home. Internet and phone service were provided at every post, although the service level often depended on if there was a sandstorm or not, so Regal was able to talk with his family and friends nearly every day.

Some bases even had pool tables and televisions with DVD players or game systems.

The 229th returned to the United States on June 30, staying at Fort Bliss, Texas for a week and a half. Regal said that time consisted of a lot of re-integration meetings, covering everything from financial and legal issues to counseling.

"The military's very thorough," Regal said. "They really make sure when you're back that you're OK."

Although the demobilization process is important, Regal said that final wait to return home was tough.

"That last night, I didn't sleep at all," he recalled. "A lot of people didn't sleep. I heard people just walking around, waiting around."

As the 229th touched down at Volk Field at Camp Douglas, Wis., on the afternoon of July 11, Regal said the welcome and fanfare was more than he expected.

"I was surprised at how many different banners there were," he said. "There were just tons of people."

At his home, Regal had even more fanfare. A large welcome home sign was staked in the front yard. Inside, his girlfriend had constructed a five foot by four foot flag, made of squares and stars she had painstakingly cut out and adorned with messages. Regal said he made the mistake of walking right past it. All was forgiven though.

Now that Regal is home, he plans to spend time with his family, and even took a job with his family's marina in Prairie du Chien in order to be closer to them. He also plans to attend college, and is thinking about becoming a chiropractor.

As for his future with the National Guard, Regal said he has committed to another six years of service.


---

By Vaughn R. Larson, Wisconsin National Guard Public Affairs - 15 July 2013:

Wisconsin Guard unit returns after engineering successful Afghanistan deployment

Gov. Scott Walker, Maj. Gen. Donald Dunbar, adjutant general of Wisconsin, and senior Wisconsin National Guard leaders joined hundreds of family members and friends in welcoming home more than 130 members of the Wisconsin Army National Guard's 229th Engineer Company and Soldiers from the 106th Quarry Detachment July 11, following a nine-month Afghanistan deployment.






Wisconsin Governor Scott Walker welcomes home the 299th Engineer Company
Click on the image to see more photos of the Welcome Home Ceremony



Maj. Jesse Augustine, who commanded the nearly 150 Soldiers during the deployment - some returned to the United States ahead of the rest of the unit - let the numbers speak for themselves.

"Two hundred sixty-six days in theater, over 580 missions, 16,000 miles traveled, 41 improvised explosive devices found and cleared, countless construction projects, the highest maintenance readiness rate in theater," Augustine said. "Your Soldiers - these Soldiers - were hands down the best engineers in theater and the best company in theater."

Augustine spoke with emotion about the challenging mission his Soldiers accomplished.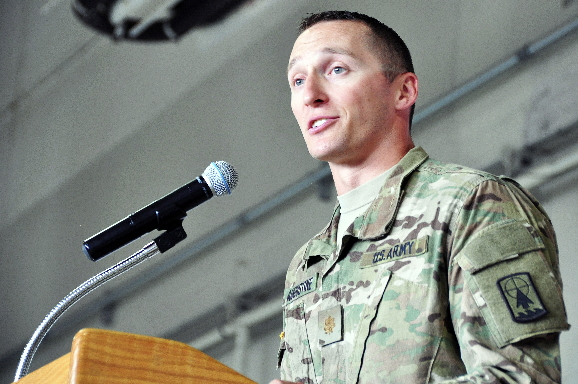 Captain Jesse Augustine, Company Commander of the 229th Engineer Company



"What you accomplished in nine months is absolutely remarkable," he said. "I could go on for hours talking about the highlights and accolades of your missions, but I'm not going to. I'll let you do that. Maybe not today, maybe not tomorrow, but tell your stories. Tell your moms and dads and your spouses how you blew through the birthplace of the Taliban, how you recovered downed aircraft, how you built forward operating bases in the face of the enemy, how you recovered missing Soldiers so they could go home to their families. How you trained and mentored the Afghan army to stand on their own feet and fight their own battle.

"Those are your stories, and you should tell them."

The 229th deployed alongside the Massachusetts Army National Guard's 181st Engineer Company and worked under the direction of the active component 20th Engineer Battalion. The 229th was responsible for expanding forward operating bases and combat outposts, building and improving roads, helicopter pads and other surfaces. They increased mobility on the combat roads and trails in Kandahar Province.

Staff Sgt. Eric Klar of Evansville, Wis., served as a squad leader operating bulldozers on new road construction projects in Afghanistan.

"We built a road with the 2nd Infantry Division into places held by the Taliban," Klar said. "It allowed [the 2nd Division] to get in there and kick the Taliban out. It was very rewarding to help the infantry get in there with their vehicles rather than having to walk all the time. We had a couple of missions like that, which were by far the most rewarding."

Spc. Phillip Webber of Baraboo, Wis., traveled across Afghanistan on mission. His most memorable mission involved an incident that occurred to an infantry unit.

"We needed to go in and help out, clean up," he said. "I can't say much more than that."

Command Sgt. Maj. Bradley Shields, the Wisconsin Army National Guard's senior enlisted advisor, welcomed the engineers home.

"In a Soldier's career there is no better day than landing back in the state of Wisconsin and being reunited with their families," Shields said.

Brig. Gen. Mark Anderson, deputy adjutant general for Army, also praised the returning Soldiers.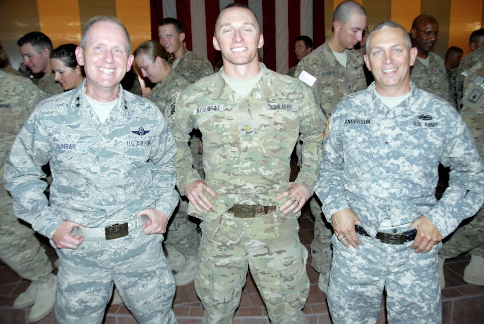 &nbsp &nbsp &nbsp &nbsp

Before departing for Afghanistan, Capt. Augustine gave 229th Engineer Company
belt buckles to the Wisconsin Adjutant General and Deputy AG for Army.



"229th Engineers, I only have a couple of words for you - mission accomplished," Anderson said. "We are unbelievably proud of what you have accomplished in theater. Welcome back to Wisconsin - job well done."

Maj. Gen. Donald Dunbar, adjutant general of Wisconsin, expressed his pride in the 229th.

"You had a difficult mission in a difficult part of the world," Dunbar said. "Not only is our country grateful, but so is Afghanistan. You'll never know how many men and women in Afghanistan will be forever grateful for your contribution to their country. You did a remarkable job."

Gov. Scott Walker agreed.

"To the men and women of the 229th, thank you for your service, and thank you for protecting freedom here and around the world," Walker said. "We're proud of you. We also say thank you to the families who made sure things were good back here at home so your loved ones who deployed could do the job they were sent to do."


---
Click on any of the unit symbols to see information on unit personnel and operations [these are not the correct units--requires updating] .



---



Redeployment From Afghanistan



The 229th Engineer Company and 106th Engineer Detachment returned home to Wisconsin on xx July 2013.

The units earned the campaign streamer for Afghanistan - Consolidation II.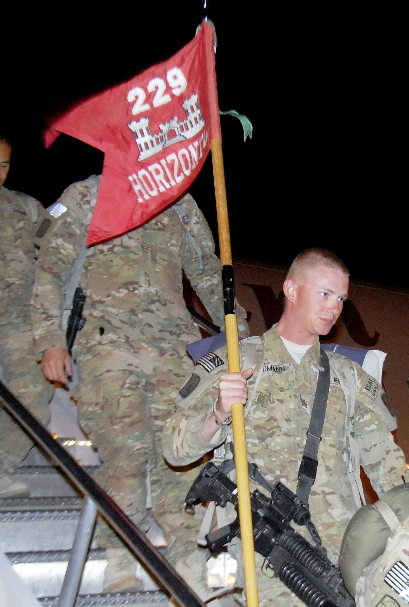 ---