Boise National Forest, Idaho
August 1994



The summer of 1994 brought some of the worst wildfire conditions the western United States had seen in many years. The National Interagency Fire Center requested assistance from the Department of Defense; DOD, in turn, tasked Joint Forces Command for troop assistance.

In July 1994, the 20th Engineers were given a short-notice mission to deploy to the northwest US for front-line firefighting duties. The battalion headquarters, commanded by Lieutenant Colonel Bruce Porter, formed the nucleus of a 550-man task force (Task Force Lumberjack) consisting of the 20th Engineer Battalion; 91st Engineer Battalion (less headquarters); the 1st Cavalry Division's Long Range Surveillance Detachment; and various other attachments to include a medical detachment and chaplain team.




Task Force Lumberjack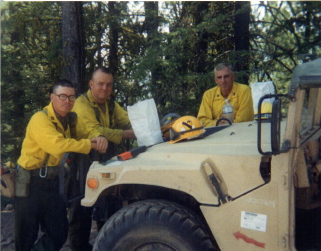 Lt. Col. Porter meets with two of his company commanders



Task Force Lumberjack organized each company into three 20-man fire-fighting platoons. The Forest Service sent a veteran fire-fighter to serve as an advisor to each platoon. Before deploying, the platoons trained intensively at Fort Hood, learning specialized fire-fighting techniques and procedures.



A fire-fighting platoon of Task Force Lumberjack
The person in the red helmet is the Forest Service "advisor"



Upon arrival in Idaho, Task Force Lumberjack set up a base camp deep in the national forest. The Forest Service provided logistical support such as meals, laundry, and showers. The Army and Air Force Exchange Service set up a small Post Exchange and barber shop.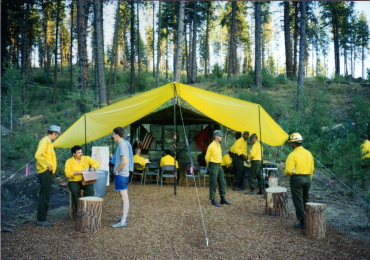 &nbsp &nbsp &nbsp &nbsp

Task Force Lumberjack - Headquarters and Company Area
Below, soldiers relax watching a movie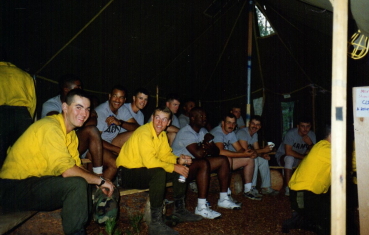 The soldiers of Task Force Lumberjack first started out in mopping-up operations in the older parts of the fire. As the soldiers gained experience, they were moved to more active parts of the fire, and by the end of the deployment they were performing "initial attacks" on new areas of the fire.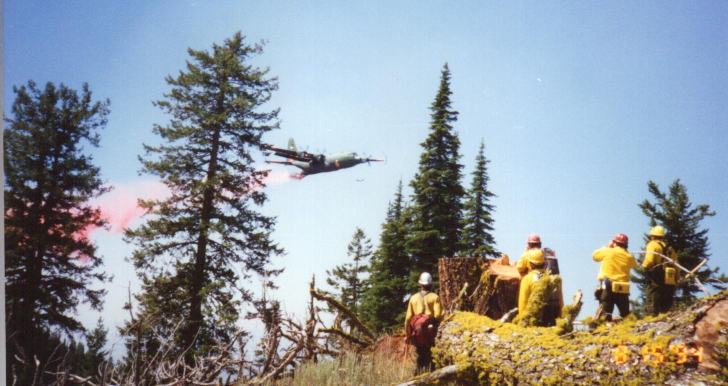 Military C-130 dropping fire retardant near a platoon of TF Lumberjack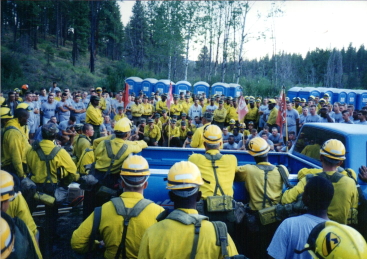 Command Sergeant Major Hall speaks to the soldiers of TF Lumberjack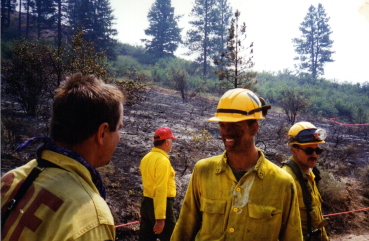 A soldier of TF Lumberjack speaks to his Forest
Service "advisor" after a long day on the fire line


---

At the end of the deployment, Lt. Col. Porter praised the performance of the Task Force Lumberjack soldiers. He presented each company with a campaign streamer "1994 IDAHO FIRES" for their guidons. He also presented a number of soldiers with Army Commendation Medals for their hard work during the campaign. The same soldiers also each received a red helmet, recognizing them as "Hot Shots" for their demonstrated excellence.