Click on any of the units shown below to see detailed descriptions of their personnel and operations.
887th Engineer Company (Support)
20th Engineer Battalion


The 887th Engineer Company arrived in Iraq at approximately the same time as the 20th Engineers. The company is normally stationed at Fort Campbell and, though not part of the unit, wears the patch of the 101st Airborne Division. The company is normally organized with light horizontal construction equipment that may be easily air transported to be used in airborne and air assault operations.
Note: Most of the text of this article comes from issues of the 20th Engineer Battalion's newsletter, The Lumberjack Journal. The writer is the Company Commander.

From March, 2007:
Greetings to all from the mighty 887th Empire! By the time you read this, we will be starting our sixth month of deployment - almost halfway done! The Soldiers of the Empire hope that the last month has gone as quickly as it has for us here in Iraq - we have been fortunate in staying very busy during March, which has helped make the time pass faster.

Left to right, Specialist Scott, Private First Class Williams, and Staff Sergeant Fields place concrete at a blocking position
First Platoon has been busy working on both the Baghdad Security Belt and emplacing barriers throughout Baghdad in support of the "gated community" mission. On the Baghdad Security Belt (or BAGSBE, as we refer to it), they emplaced four point blocking positions and dug a ditch over two kilometers long. This will keep insurgents from getting into Baghdad, and keep them from supplying other insurgents already in Baghdad. Their barrier emplacement missions are also very critical to Coalition success, as they keep insurgents and their supplies fixed in one place during clearing operations.

Specialist Reif clears a broken barrier with his D7 dozer
Second and Third Platoons continued working on Joint Security Stations (JSS) and Combat Outposts (COP) throughout Baghdad. These JSS and COP sites are providing Coalition Forces safe havens from which they will secure the different parts of Baghdad. These missions have lasted anywhere from three to seven days, and Second and Third Platoons have been working extremely hard getting these sites constructed quickly and safely; usually, they only have three to four days between each mission. Between the two platoons, they have built seven JSS/COP sites in the month of March alone.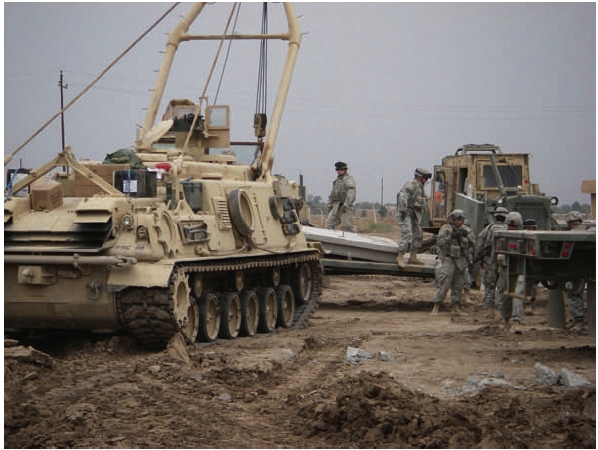 3rd Platoon constructing a combat outpost
Finally, Empire Soldiers are seeing a familiar face around the company since March 15th; the newly-promoted CPT Lullen has rejoined us, and is now the Company Maintenance Officer. She'll be working hard with all of the platoons to make sure that their equipment is ready to go on missions. Welcome back, CPT Lullen!
All of the platoons have earned accolades and commendations from our own Battalion and Group Commanders, but also from each Infantry and Cavalry Battalion, Squadron, and Brigade Commander we have supported. I am very proud of each one of my Empire Soldiers, as I'm sure you are.
We hope that as we approach our half-way point in the next month that our time (and yours) passes as fast as it has up to now. Until next time...EMPIRE!
CPT Hudson
Empire 6



---
From February, 2007:
Greetings again to all from the mighty Empire! The 887th ESC has been kept increasingly busy since the last newsletter. All of the Soldiers in the Empire (both organic and attached from the 20th EN BN) have been doing an outstanding job, using their initiative and ingenuity to accomplish the mission safely. The fact that we, the 887th, have reenlisted six Soldiers since arriving (and many more on the way) is a testament to Empire Soldiers' commitment.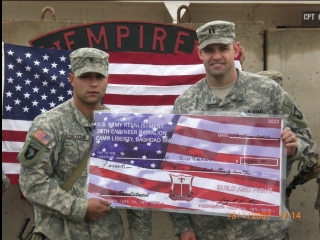 Specialist Culleton re-enlists with Captain Hudson, the Company Commander
1st Platoon has been busy with force protection and survivability missions. Since mid-December, 1st Platoon has gone on 5 force protection/survivability/patrol base upgrade missions (what we call our "long" missions), providing much-needed force protection for US and other Coalition Forces Soldiers and improving their living conditions to make their lives here more "livable." Additionally, 1st Platoon completed 3 counter-mobility missions, securing the perimeter of Baghdad.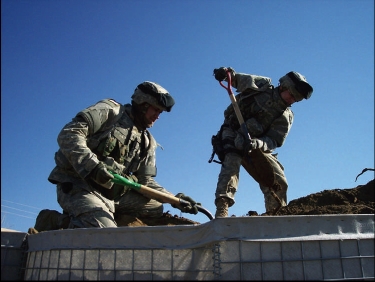 SGT Gerald Risner and SPC Michael Leonard emplace HESCO bastians on a Force Protection Mission

Unfortunately, on one of their counter-mobility missions, SGT John Michael Fleming had his right arm pinned to the ground by the bucket of a front loader, causing serious damage to his lower arm. Thankfully, doctors were able to save his arm, but he will have a long road to full recovery. SGT Fleming is back in the United States at Fort Campbell, receiving care both at Blanchfield Army Community Hospital and Eisenhower Army Medical Center at Fort Gordon, Georgia. SGT Fleming, our thoughts and prayers are with you!

In late December, 2nd Platoon picked up the on-post Force Protection mission from 3rd Platoon. While they have been busy, it has been a bit of respite from their busy off-the-FOB mission schedule in December. They will be continuing on this vital mission until mid-February, when they will join the rest of the Company in performing more off-the-FOB missions.

1SG Stanger and the Empire Christmas Tree
Since starting their off-the-FOB missions in late December, 3rd Platoon has had very little downtime. They started with a dual force protection/survivability mission, upgrading two patrol bases at once. Upon their return, they began planning for the construction of a Joint Security Station (JSS); those of you who watch the news (and newspapers) regularly will be familiar with these sites, from which US and Iraqi forces will conduct operations. 3rd Platoon has been busy constructing the force protection for three of these sites, with another in the planning stages. 1st Platoon will soon also be contributing to this task, with 2nd Platoon not far behind.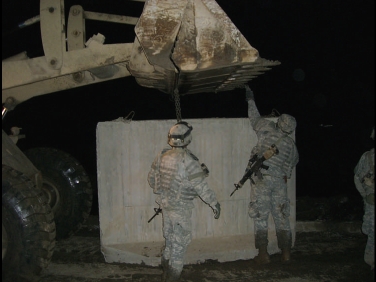 3rd Platoon emplacing a barrier at a Joint Security Station
As usual, the Field Maintenance Team has the unenviable task of keeping our equipment running that frequently breaks due to the rigors of our operations, and has been performing beyond reproach. We have been able to accomplish our missions only because the FMT has kept our equipment running.
The coming months will have us doing much of the same missions, the most prevalent being construction of more JSS's.
As our first 90 days in theater can attest, the Empire will remain busy, committed to the task at hand.


---


From an article in suburban Chicago's Lake County News-Sun, February 22, 2007

Band of brothers
She has two sons in Iraq; 'It has been very stressful'

(http://www.suburbanchicagonews.com/newssun/news/267815,5_1_WA22_BROTHERS_S1.article)

February 22, 2007

By RYAN PAGELOW RPagelow@scn1.com

WAUKEGAN -- Two brothers from Waukegan have gone from living five houses away from each other just outside Fort Campbell, Ky., this week to living a stone's throw from each other in Iraq.

Michael Negron, 34, and Andre Negron, 29, both joined the Army shortly after graduating from Waukegan High School. Andre, a staff sergeant with the 101st Airborne, was deployed to Balad, Iraq, on Wednesday and will be stationed about 40 miles from where his brother Michael, a sergeant first class with the 887th Engineers, is stationed in Baghdad.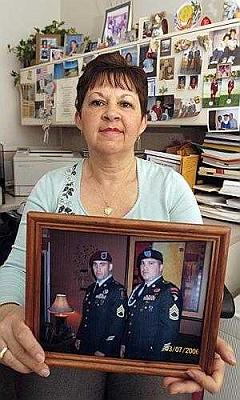 Rose Sajuan of Waukegan holds a photo
Of her sons Andre Negron (left) and
Michael Negron who are in the Army serving
in Iraq, at her office at the College of Lake County.
(Michael Schmidt/News-Sun)


Naturally, the stress level of their mother, Rose Sajuan of Waukegan, has moved up a notch. Having one son in a war zone is hard enough, let alone two.

"It has been very stressful with Michael gone. I just thank God for computers and Web cams," said Sajuan, who is a secretary at the College of Lake County. "At least I can see him once and a while. We can chat online. At night, I leave my computer on until 11 p.m. Sometimes I stay up to see if he signed on so I know he made it through another day."

She has found support from other mothers in Lake County with children in the war zones, especially when Michael was first sent to Iraq this past Halloween.

"They've been a real support for me," Sajuan said. "All of a sudden I got bombarded with all these e-mails from moms giving support, that they were there for me. And I in turn would like to do that for other moms."

She saw her sons and their families together in Kentucky just before Michael was deployed. Her sons were playing pranks on each other, which escalated to toilet-papering Michael's house.

"They even got me involved. They put mustard and ketchup on my car," Sajuan said. "I had to wash my car, but it was all in good fun. It was something to remember after Michael left. We've been that kind of a family where we play pranks."

Michael has four kids and Andre has two. Michael is scheduled to be in Iraq for a year. Andre's duty could be a few months or longer, Sajuan said.

Michael has been overseas before in Germany. Andre has served in South Korea and with NATO in Naples.

"Michael decided he was going to be in the army for five years. Next month it will be 15 years," Sajuan said. "Andre said he would never go in the Army after seeing his brother's basic training graduation and now he's going on 10 years next month."

Having family members together in Iraq is not uncommon, Michael wrote in an e-mail from Camp Liberty in Baghdad to The News-Sun.

"It's not that rare," he wrote, but he didn't personally know anyone in a similar situation. "We have spent many years trying to be stationed together and it's great being able to walk down the street and visit him and his family (outside Fort Campbell).

"The only thing I would have liked is not being in Iraq at the same time," he added. "It's hard on my family with just me here. It gets even harder having two sons in harm's way.

"And for me, the stress level is high already. Now I have to worry if my brother is safe, too."

Michael doesn't think they will be able to see each other while they are in Iraq, even though they will be the same distance apart as Chicago and Waukegan. In recent months they've stayed in touch once a month by e-mail and phone.

He advised his younger brother to stay safe and to keep his head down.

"The advice I gave my brother was... stay in the proper protective gear and always be aware of his surroundings and that I love him," Michael wrote. "The bad guys are looking for an easy target, so I told him to always look ready."

He ended his e-mail, by writing: "But we'll be OK and will soon be home. Just want to let you guys know back there that I am proud to defend my country and support the troops."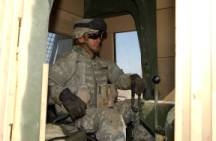 Click on one of these pictures to see a news release on Sgt. Fred Suddeth, a dozer operator with the 887th Engineer Company, 20th Engineer Battalion


---
From January, 2007:
Greetings to all at Fort Hood and Fort Campbell from the mighty Empire! We hope that all is well there at home.
A quick recap on the last month and a half: after a long enough stop in Ireland to promote now-SFC Schmitt, the Empire arrived in Kuwait on November 2nd. Upon our arrival, we joined the 20th EN BN (C). We also welcomed the 20th's Security Platoon into our ranks; to fill our personnel shortages, the 20th attached to us a small platoon of Combat Engineers to serve as drivers and security.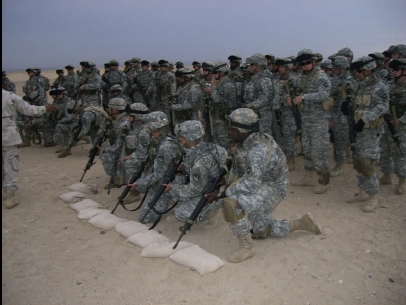 3rd Platoon practices reflexive fire during training in Kuwait
Additionally, we gained two new Platoon Leaders for 1st and 2nd Platoon, 2LT Duke and 2LT Tatum. 1LT McCormick and 1LT Lullen are now Executive Officers of HHC and FSC, respectively. After a variety of training and equipment issue in Kuwait, the Company arrived in Baghdad on the 16th of November. We quickly started our Relief in Place of the 62nd Engineer Battalion (Combat)(Heavy), learning exactly what they did the year they were here and extensive training on our newly assigned equipment. (Who would have thought that the 887th would ever have heavy, armored equipment?)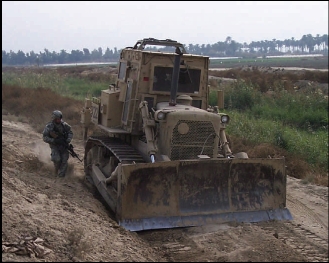 An armored dozer of 1st Platoon
The Empire hit the ground running. Since our Transfer of Authority, we have been going full bore.
As of this writing, 1st and 2nd Platoons have run a combined 5 short day/night counter-mobility missions, 2nd Platoon has begun a two-week- plus survivability mission, and 3rd Platoon has been busy every day with a critical force protection mission.
Maintenance Platoon has been occupied with inspecting all of our "new" equipment, maintaining it, and going out on missions with the line platoons.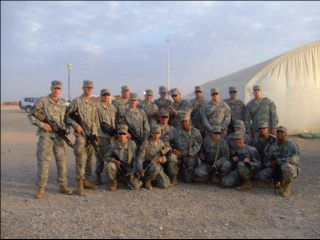 The Field Maintenance Team of the 887th Engineers
We have been very fortunate; we have had no accidents or injuries. You all should be very proud of your Soldiers - they have been very vigilant and safety-conscious.
With all of our missions and day-to-day operations, the time has gone relatively quickly. We hope that it has gone as quickly for you, and that you have a happy and safe holiday season!



---
---
---