Click on any of the units shown below to see detailed descriptions of their personnel and operations.
Forward Support Company
20th Engineer Battalion


Note: Most of the text of this article comes from issues of the 20th Engineer Battalion's newsletter, The Lumberjack Journal. The writer is the Company Commander, Captain Joe Contreras.

From March, 2007:
Hello, once again, to all of the Workhorse Family and Friends! We have reached the five month mark in our deployment and are looking April straight in the face. There have been some long days, but the weeks and months have gone by quicker than expected. The company continues to do great things supporting the battalion in accomplishing the mission.
We have been fortunate enough to promote some hard working individuals since our last newsletter. Our executive officer, 1LT Lullen was promoted to CPT and 2LT Buckingham was promoted to 1LT. The SFC list was released during March, and SSG Rojo was selected for promotion after 18 meritorious years of service. SGT Alexander was promoted to SSG, after working hard for two years toward this rank. Other promotions include: SPC Johnson to SGT, PFC Gudmestad and PFC Franks both to SPC. I also want to congratulate SPC Biles, who re-enlisted, and gets to serve our great country for four more years! We say farewell to CPT Lullen, as she moves back to 887th to serve as their Maintenance Technician. 1LT Jesionowski takes over as the executive officer, and we welcome 1LT Edrington as the Maintenance Platoon Leader.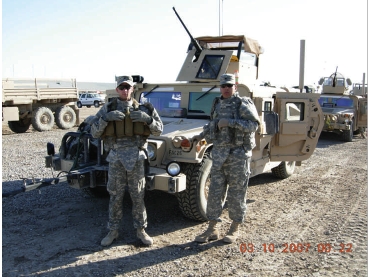 Specialists Lopez and Burke prepare to head out on a command visit
This is the first combat deployment for the majority of our Soldiers. A third of us are serving over here for a second time, and we have eight Soldiers that are on their third deployment. 1SG White and I would like to thank all of you for the sacrifice that you all have made in the past and are making! Not a moment goes by without us thinking about your safety and well being too. Workhorse 6 out!
1st Platoon "Distribution" by Second Lieutenant James Wilson
The Distribution Platoon has been very busy, moving material and equipment all over Baghdad. Once again, the courage and skill demonstrated by everyone is bringing the platoon closer everyday. Recently, we awarded some of our first Combat Action Badges. These are awarded to Soldiers who engage or are engaged by the enemy when they are out on missions. SPC Haufe and SGT Phillips were our first Soldiers to receive this badge. We submitted SGT Pipkin, SGT Joyner, and PFC Augustyn as well, and are awaiting the official presentation. Also, the fuel line recently became more active, with our fuel missions expanding from providing fuel to generators inside the FOB, to providing fuel to the engineers we work with and now to the Iraqi Army. Soldiers, including SGT Glass, SGT Applewhite, SPC Cooper, SPC Williams, PFC Michael, and PFC Watts, have been doing an outstanding job with this. We are expecting a few more Soldiers to join our team; we can't wait to meet them and get them integrated into the platoon! As always, our thoughts are with our families, and we couldn't do what we do everyday without your support. Thank you for all that you do. Lead from the front!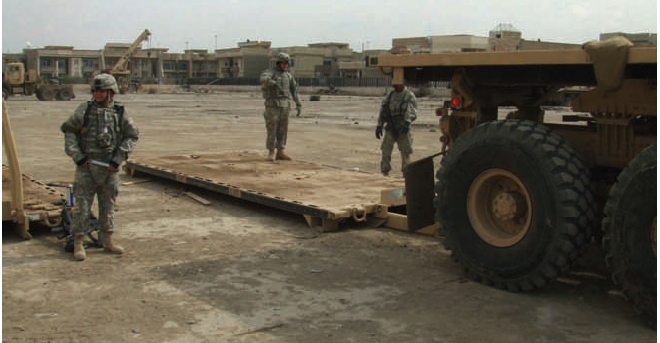 PFC Banches instructs soldiers from the 82nd Airborne Division on stacking flat racks, while PFC Augustyn watches.
2nd Platoon "Maintenance" by First Lieutenant Cody Edrington
The Maintenance Platoon continues to do an outstanding job. All sections continuously worked hard to ensure all equipment was fully mission capable. The welding shop finished adding armor to eight more 22 ton cranes for a total of ten. The mechanics, under the leadership of SSG Damian, SGT Ellis, and SGT Grocke, worked feverishly to repair the HET trucks and trailers. This is critical, as they are essential for the battalion's current mission. SGT Herman, SGT Stenquist, SPC Roberts, and SPC Black have done a remarkable job during recovery missions. The HEMTT wrecker and M88 that they operate, have been instrumental in aiding the construction of command outposts and joint security stations. We have taken over a new mission, the command and control for the command visits that occur around Baghdad. SPC Lopez and Burke have performed superbly during these missions as my driver and gunner. Working with myself, CPT Contreras, and SSG Byrne, these Soldiers have provided a large contribution to the success of these missions. The platoon continues to be the foundation for the success of the unit, and SFC Sanchez and I are grateful for their work. Thank you for all of your support, as you, the family and friends at home are the motivation for our success.
3rd Platoon "DFAC" by Staff Sergeant Thomas Wilson
Greetings! We have continued to stay busy, some of the highlights include: PFC Wesco became the proud father of a son, PFC Brown helped out in the battalion mailroom, and SPC Leibacher is now working in the Workhorse TOC. Everyone else continues to do great things; whether it is supervising in the Cafˇ Defluery DFAC, distributing water and MREs to the battalion, or sustaining security while assigned to the Mayor Cell. Thanks for all the support.


---
From February, 2007:
Commander's Update by Captain Joe Contreras
Greetings, 1SG White and I hope this finds all of you in good spirits. Time has flown by and we have hit the three month mark of our deployment. The Soldiers' performances have continued to be outstanding. Congratulations to PV2 Swigert, who was promoted to PFC on 1 January 2007. PV2 Harder and PFC Fischer were promoted to PFC and SPC, respectively on 1 February 2007. SPC Stenquist made the cut-off score, and was rewarded for his continued hard work, as he was promoted to SGT. I also want to congratulate SPC Parker, who won the January Soldier of the Month Board for the Battalion. I want to welcome the late deployers to the Workhorse Family: 2LT Buckingham, SSG Wilson, and SPC Hamm.
The continued support of so many of you has been fantastic. Not a day goes by that I haven't seen the eyes of one of the Workhorse Soldiers light up, because they have a package from home. Please, keep up the support, it is making a bigger difference than you could possibly realize. Until next month - WORKHORSE!
1st Platoon "Distribution", by Second Lieutenant James Wilson
During the month of January, the Distribution Platoon has been involved with several convoys in the Baghdad area. These missions have been crucial in supporting the battalion by allowing them to have the essential supplies to complete the mission. The courage and skill demonstrated every time they go outside the wire has been extraordinary. We have worked diligently to train everyone on the new equipment that we received when we arrived, and the teamwork displayed is really showing through. This has required a lot of adjustment from the Soldiers, since most whom worked in the fuel section had not trained to operate anything other than fuel trucks and HMMWVs. The fuel section has its own responsibilities as well, ensuring that the generators around the base, that provide electricity, and our equipment are always full of fuel and other fluids. Everyone in first platoon is making an effort to learn from and teach each other the necessary skills for us to accomplish the mission, making it a common sight to see the 88 drivers working on fuel trucks and the fuelers driving heavy equipment on convoys. With what has been displayed so far, I know that we are capable of great things. Lead from the front!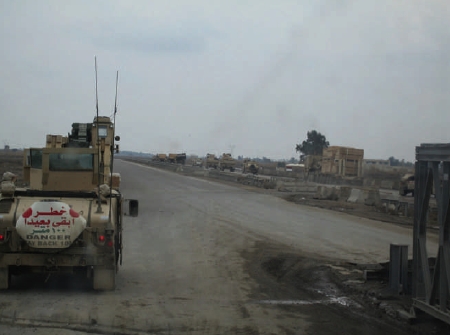 1st Platoon prepares to roll out with a logistics package
2nd Platoon "Maintenance", by 1st Lieutenant Tyler Jesionowski
The Maintenance Platoon under SFC Sanchez has been doing remarkable things in order to support the battalion. The welding shop has successfully added armor to two 22 ton cranes, 2 hydraulic excavators, and added ballistic glass to the gunner's position on HMMWVs, thanks to PFC Fisher's expertise. The mechanics continue to work hard to keep everyone's equipment rolling. They have worked for a total of 2,640 man-hours this month, ensuring the distribution platoon is ready to move logistical assets around Baghdad.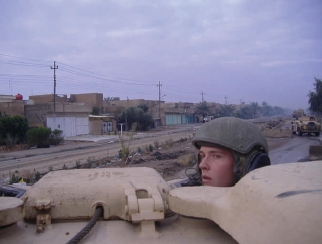 SPC Stenquist in an M88 heavy recovery vehicle, also used to emplace obstacles
The recovery section spearheaded by SPC Stenquist has been busy emplacing concrete barriers. They have received many accolades on their hard work. This section has also successfully performed over 11 recovery missions. We appreciate all the support!
3rd Platoon "DFAC", by SSG Thomas Wilson
3rd Platoon would like to thank its family and friends for their continued support. We continue to work hard, more to follow next month.
---
---
From January, 2007:
Hello to all of the Workhorse Family and Friends! The first month of deployment flew by faster than any of us imagined. We sent LT Duke and SGT Rogers on our advance party (ADVON) to Kuwait in mid-October to ensure that our arrival was a smooth one. Along with the rest of the ADVON they laid down the foundation for our company and the rest of the battalion. We spent almost two weeks conducting training and getting accustomed to the climate. The training we received varied from classroom instruction on theater specific equipment, ranges, and a three day convoy training exercise. We received accolades on our performance during the convoy training exercise by our observer controllers.
PFC Gudmestad and I arrived as the ADVON party to Camp Liberty, Iraq. We began the task of inventorying and transferring the equipment from the departing unit. The rest of the company reached our destination on 15 November. The Soldiers were pleased as they saw the pleasant living accommodations (trailer rooms, dining facility, post exchange, etc.) We began to shadow our counter-parts and learned the ins and outs of our mission. We officially took over on 1 December as we participated in the Transfer of Authority Ceremony.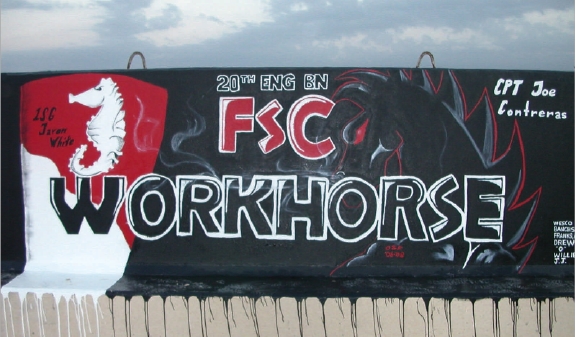 Forward Suppport Company - Workhorse!
1st Platoon has the daunting task of running the logistical package convoys (LOGPACs). They have conducted a couple to this point and continue to support the battalion in all that it needs.
2nd Platoon is also faced with a complex mission - fixing and maintaining all of the equipment that we inherited. There have already been many late nights for both platoons in our motor pool as they strive to attain equipment that is always ready to roll. 3rd Platoon is working out of the dining facility ensuring that the food that our Soldiers are eating is properly prepared with standardized sanitization requirements. They also have a couple of Soldiers supplying the battalion with water and meals ready to eat on a daily basis.
We had several promotions in the company. Both, LT Duke and Jesionowksi are now 1LTs. SPC Grocke made the cut-off score and was rewarded for his hard work as he was promoted to SGT. In addition, PFC Cooper was promoted to SPC and Trenche and Banchs were promoted to PFC. 1LT Duke has taken over a platoon in 887th, and we welcomed 1LT Lullen from 887th as our new executive officer. Finally, 1SG White and I would like to express our gratefulness regarding the opportunity to lead, and continue leading your husbands, wives, sons, daughters, brothers, sisters, and loved ones in combat, the honor is ours. Until next month, WORKHORSE!