Click on any of the units shown below to see detailed descriptions of their personnel and operations.
Headquarters & Headquarters Company
20th Engineer Battalion


Note: Most of the text of this article comes from issues of the 20th Engineer Battalion's newsletter, The Lumberjack Journal. The writer is the Company Commander, Captain Tony King.

From March, 2007:

"Picking up Speed!". You may not know this, but the 20th Engineer Battalion is currently a major contributor to make Baghdad secure. Through construction of Joint Security Stations (JSS) and Combat Outposts (COP) in and around Baghdad, the battalion is doing its part to provide a safe environment for the people of Iraq. As a result, the battalion's operational tempo is picking up speed. We are focused on creating JSSs, COPs, and "gated communities". The need for synchronization of manpower, equipment, and construction materials are paramount. As a response, the S-3 section (operations and plans) has grown to keep up. We welcome CPT Charles Cathcart and 1LT Richard Steel to the S-3 section. Both are coming from the 642nd Engineer Company and bring a wealth of experience to the section. Sadly, at a time when activity is gearing up, we will soon be saying goodbye to a human juggernaut of energy in the S-3 section, Sergeant Major Federico Boyce. We wish him success as the battalion command sergeant major for a new unit presently standing up at Fort Hood. SGM Boyce's departure will be a real loss, as he has continually fought to reduce the number of "ankle biting" jobs we are tasked with on Camp Liberty. His endeavors have freed up over two platoon's worth of Engineer Soldiers that now contribute directly to off the aforementioned FOB construction missions. His boots will be tough to fill. However, his replacement, Sergeant First Class Michael Negron, is up to the challenge. SFC Negron just completed a tour with the 887th Engineer Company as a platoon sergeant. Prior to the 887th, SFC Negron was "on the trail" (a Drill Sergeant) at Fort Leonard Wood (FLW).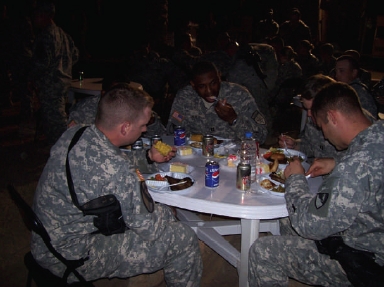 Capains sharing a meal at the March Sapper Call
"Order of the Flaming Pumpkin Patch" Speaking of Drill Sergeants, I want to personally welcome SFC Jerrold "Woody" Wilson to the S-3 Construction Cell. SFC Wilson is also coming from drill sergeant duty at FLW. He served along side SFC Negron and SFC Arredondo (S-3C) in the 169th Engineer Battalion. (As you might suspect, having a Trifecta of former Drill Sergeants has some great perks. Productivity in the S-3 section has risen 83% just in the last week! -Just Kidding!) I am personally ecstatic about having SFC Wilson with us, as we served in the same company together during OIF I. On the home front I want to personally extend the same welcome to his wife Jacque and the four Wilson children. My wife, and Rhonda Murphy know Jacque from their time FLW, and will agree they are one are one tough Army family! We are all thrilled to have them!
"The More Things Change, the More they Stay the Same..." In an effort to ensure our Soldiers gain invaluable experience while deployed, we continue to exchange Soldiers with our sister company, 510th. We have given the "Sappers" of 510th, two quality NCOs, Sergeants Ellison and Mack. They also received two of our most beloved Soldiers, SPC Parsons and PFC Sisson, and a darn good medic, PFC Ouchakov. They also received a really smart young Soldier, PFC Perry, who as a Combat Engineer, did wonders in the S-1 section. I'm positive these Soldiers will make great contributions to the 510th. We also said good bye to our senior NBC Soldier, SPC Caraballo, who is now back with the Rear Detachment. I know she is already an invaluable asset to SFC Kent and CPT Aguilar. From the 510th, we welcome a well seasoned medic, SPC Kelly, and two outstanding NCOs, Sergeants Bagwill and MacDougall. We also welcome back a familiar face, SPC Benge who is taking PFC Perry's place in the S-1 section. Superbly filling the void in our company operations, left by SPC Caraballo, is SPC Mendoza from FSC. Hope you got all of that!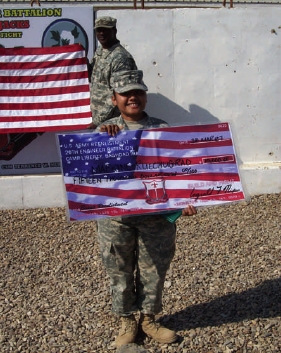 Sergeant Ruechugrad reenlists. Yes, it says $15,000!
Other Stuff: We are staying busy here. The HHC operations section continues to run a monthly battalion level qualification range to ensure everyone in the battalion stays proficient with their weapons. As a company, we also just completed diagnostic P.T. test. While some of us were a little rusty, the results were good for a unit deployed. Some people have lost weight, and made great improvements from where they were on previous tests back at Fort Hood. Great credit goes to 1SG Lingenfelter for spearheading these two events. We are also excited that two of our Staff Sergeants, Irvin and Guillencepeda, made the Sergeant First Class list!
Final Thoughts: It is starting to warm up here. We have put away our "snivel gear" (a.k.a. winter clothing), and have started to use our air conditioners. The "Iraqi Air Force" lives again...Our flyswatters are getting their first work out in months dealing with some of the most determined flies you will find anywhere in the world! My X.O., 1LT McCormick is starting to wear sunscreen (SPF 200 in his case...). Yes, spring is in the air, Iraqi Style! Looking back to last November, time has gone by quickly. We are already starting to plan for our retrograde back to Fort Hood; a positive sign that our days here are numbered. So far, we are on track to return on schedule. Once we get through what promises to be a hot summer (is there any other kind?), we should be home free. Things could change very rapidly, and there is always the possibility of extension; but right now, everything looks good. Until then, continue to keep us in your prayers! You are in ours! CPT King (tony.king@us.army.mil)
---
From February, 2007:
This month I want to start something new with the HHC portion of this news letter. Instead of me, the company commander rambling, I want use this forum to spotlight some of our Soldiers. I will continue to keep you updated on special activities we have been involved with, recent promotions, and changes of duty. But the bulk of this space will be written by Soldiers.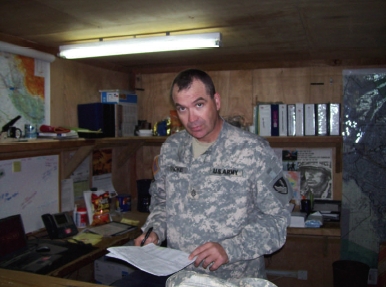 SSG Radke, hard at work in the S3 Shop.
One thing I would like to mention, is every Soldier currently in HHC is authorized to wear the 36th Engineer Brigade Patch on their right shoulder if they did not already have a combat patch from previous deployments. There were a few changes in the HHC this month. We welcome SSG Radke from 510th and say goodbye to SFC Karneke who switched places in the battalion. We also said goodbye to 1LT Lao who is now a platoon leader in the 510th. In exchange, we welcome 1LT Petrie who is currently working as the assistant S-4. We also want you to know that the quality of our healthcare in the battalion has been elevated to a new benchmark with the inclusion of CPT Meece. CPT Meece is our Physician Assistant and his presence will compliment the fine work already done by SSG Huston and the medics.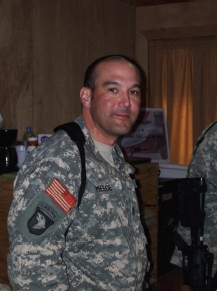 HHC welcomes CPT Bryan Meese, as our long awaited Physician Assistant. CPT Meese is coming to us from Ft. Riley, Kansas where he will re-deploy to upon completion of this tour. His wife and six children are also still back in Kansas.
Coincidently, our first Soldier in the Spotlight is one of our battalion medics, SPC Tucker. "I am a Health Care Specialist, better known as a Combat Medic. This is my first enlistment, and my first overseas deployment. My tour here in Iraq has had its ups and downs. Initially, I had a hard time adjusting to being away from my family and friends, but I am slowly adjusting to being so far from home. This experience has forever changed my outlook on life as it was and it will be in the future. I have grown to appreciate the little things in life that we as free American citizens take for granted, such as, the freedom to go shopping safely and quality time that is spent with family and friends. During this tour I have had plenty of time to really think, about my life and ways to strengthen my weaknesses, as well as my strengths.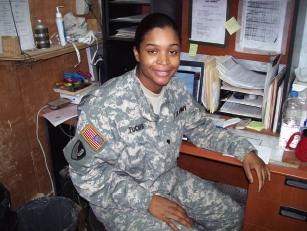 SPC Tucker is from Tallahassee, Florida. She has been in the Army since May 2005. She holds a Bachelor of Science in Rehabilitation Services with a concentration in Substance Abuse and Mental Health from Florida State University (2004). She is married to Matwanziek Tucker, and they reside in Killeen.
"Even if I leave Iraq tomorrow, I have been positively changed. I believe this experience will help me be a better Soldier, friend, and wife. I would like to thank my family and friends for supporting me during this deployment. I would also like to thank all the "Soldiers Angels" and "Any Soldier" members. They have sent numerous care packages and inspirational letters and cards, which is much appreciated. I would also like to thank the Family Readiness Group (FRG) for showing their support through care packages and letters. Your efforts and dedication is truly appreciated. Last, but not least, I would like to thank my fellow medics of the 20th Engineer Battalion. They are my second family, keeping me sane through chaos. I hold dear the time that we have spent together and I love them as I love myself. Through God all things are possible. Thank You" - SPC Tucker
Commander's Final Thoughts: "We Must Obey God, Not Men" Acts 5-29. I am proud to be serving with your Soldiers. They are employed in a dangerous profession in a dangerous place, but we are relatively safe. They have a "high standard of living" over here with a work schedule that is not overly demanding. In most units, this would be a recipe for disaster! However, your Soldiers continue to be people of sophistication and self restraint; their actions bring great credit upon their family and friends and we here couldn't be prouder. Thank You for keeping us in your prayers! CPT King (tony.king@us.army.mil)

---
From January, 2007:
The first month of this deployment has gone by quickly. We can only hope the remaining time will go by as fast. Since the headquarters company left Fort Hood in late October, we have been busy and things seem to be changing for the better everyday. In case anyone didn't know, here is a recap of what we have done to date.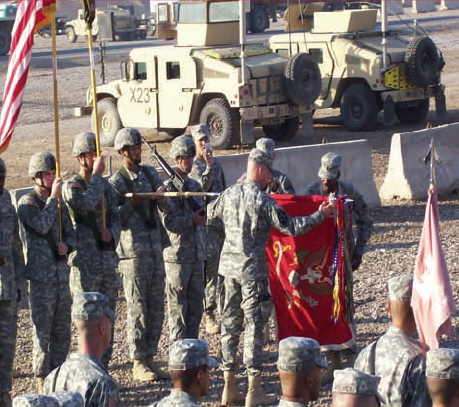 The battalion commander and command sergeant major uncase the colors of the 20th Engineers upon arrival in Baghdad.
Our advance party (ADVON) arrived in Kuwait to pave the way for the rest of the battalion back in mid- October. They quickly coordinated for billeting space, drew necessary equipment and vehicles for our time in Kuwait, (and figured out where the PX and Dinning Facilities were). They did a great job, and when the company main body arrived on the 2nd and 3rd of November, we had plenty of time to recover from the enduring the long flight from Fort Hood.
During our almost two weeks in Kuwait, we conducted training on theatre specific equipment that will keep us safe during this deployment, and then engaged in an intensive three day convoy training exercise. This was also a valuable time to acclimatize to the region which right now is colder than Fort Hood at the moment.
On 8 November, MAJ Alexander, CPT King, CW2 Rush, SGT Meyer, (and the commanders and supply sergeants from FSC, 510, and 887) flew from Kuwait to Baghdad as part of the ADVON to Iraq. They linked up with their counterparts in the 62nd Engineer Battalion and began the task of transferring of equipment and learning the rhythm of day to day operations. They also used this time to learn where everything was to pave the way for the rest of the battalion which arrived at Camp Liberty on the 16th.
Almost immediately upon the battalion's closing in on Camp Liberty, we began to shadow our counter parts from the 62nd, beginning by learning the intricacies of their jobs here in Iraq, and seeing our "new" equipment. Our company found itself filling some mighty big shoes. The 62nd Engineers staff had two and a half times more Captains on the battalion staff than the 20th and more depth in personnel in almost every other section. Our counterparts, the HSC of the 62nd had over 200+ Soldiers, compared to our current cadre of 83. On 1 December, the 62nd officially gave the reins to us during the Transfer of Authority (TOA) ceremony. While the 62nd was very helpful in getting us situated and prepared to assume missions here, we were happy to finally see them go. If we are replace by another unit at the end of the deployment, they will surely feel the same way about us.
Managing expectations became the first order of business from the Battalion Commander and the staff. Overall the transition of equipment and facilities has been very good for our company, as we now have more stuff than we know what to do with. This is a big change for a company that only recently had a hard time getting toilet paper at Fort Hood (an exaggeration, but only a slight one). The company equipped well enough that it is now frequently everything to our sister companies to help support their operations.
Things are changing quickly in the company. The most obvious difference is the name, HHC. On 3 December, LTC Raymer instructed the battalion that we were no longer the HSC, and that all Headquarters companies for Combat Effects battalions would be HHC because of the role the Forward Support Company (FSC). (A matter of semantics, as our mission remains the same.)



Major Kelly promotes PFC Presley, one of many recent promotions in HHC.
We have also made some personnel changes recently. 2LT Tatum is now 1LT Tatum, and has taken over a platoon in the 887th for the duration of the deployment. She will be in the company of members of the security platoon which are also spread among the platoons of the 887th. We sadly had to leave 1LT Davis behind at Fort Hood for medical reasons, and she is missed.
With her absence, we have welcomed to the company 1LT James McCormick from the 887th. 1LT McCormick is already doing great work, and we wish we could take him back to Fort Hood at the end of the deployment. Other changes include the promotion of PFC Franciosa (who got his wish and is now in 510th), the promotion of 1LT Lao, who will taking a platoon in 510th very soon, and the promotions of PFCs Owens, Presley, Proctor, Ramirez, and Van Hovel.