Army engineer competes in Best Sapper Competition



By HUMBLE OBSERVER STAFF

Copyright (c) 2009 - Houston Community Newspapers Online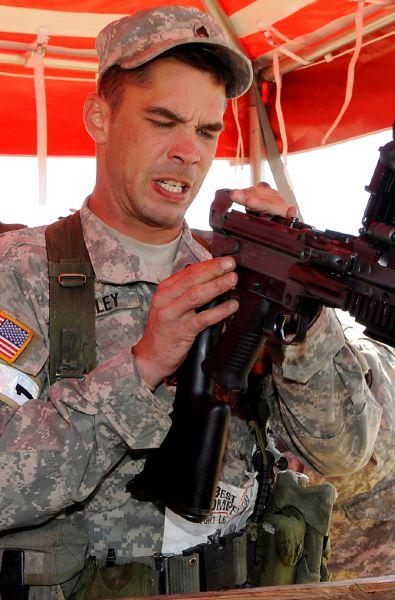 Army Staff Sgt. William C. Stanley, 20th Engineers, was one of 68 competitors for this year's Best Sapper Competition held recently at Fort Leonard Wood, Mo. The Best Sapper Competition showcases the Army's elite soldiers in combat engineering military occupation specialties.
He was exhausted. He hadn't slept in two days and was having problems focusing on the task at hand. He was hungry; he couldn't remember his last meal. It was non-stop action. Each task seemed more excruciating than the last.

For the son of a Porter woman, it was a marathon of continuous events that tested his abilities as one of the Army's best combat engineers during a 52-hour, six-phase blur of events called the Best Sapper Competition.

Army Staff Sgt. William C. Stanley, son of Michele D. Stanley, of Porter, was one of those elite engineers who competed against 33 other two-person teams to see who would earn bragging rights as the Army's best within the combat engineer career field. The contest showcased not only their physical prowess, but tested just about every engineer skill they would use in combat.

The competition was open to any soldier, sailor, airman or Marine who has earned the sapper tab, an elite qualification badge worn by those who successfully complete the 28-day Sapper Leader Course that has a 50 percent attrition rate. Regular engineers who don't have sapper tabs were also allowed to compete.

"This was my second time competing. The first time I competed was in 2006 and I came in sixth place," said Stanley, who is assigned to the 20th Engineer Battalion, Fort Hood, Killeen, Texas.

Stanley and his teammate participated in a variety of demanding and exhausting events which included land navigation, mountaineering, helocasting, road marches, weapon assembly and disassembly, knots and rope systems, and what engineers like to do best, blow things up.

Because of the intense physical and mental challenges that they would face, they had to be prepared for this grueling competition.

"My teammate and I rucked a lot and took sapper classes in between to prepare for this competition," said the 1999 graduate of Nimitz High School.

The six-phased, team elimination events, which covered more than 40 miles of wooded terrain, started at 4 a.m. on Day 1 with a nonstandard physical fitness test. Then after constructing a poncho raft and conducting a helocast swim, the competitors entered the round robin phase faced with challenges that included a counter force charge, timber-cutting charge, urban demolitions and room clearing, engaging of targets using multiple weapon systems in a battlefield environment, evacuating a casualty victim to the bottom of a cliff and climbing back to the top, and ending with the teams shooting, moving and communicating through urban terrain.

Events on Day 2 included a 15-mile road march and a series of sapper stakes with tests that ranged from weapons and knot identification to patient airlift operations, locating explosive charges, combat life-saving techniques, completing an obstacle course and a land navigation course.

The final day began with the competitors pulling a gas mask over their face and running a distance that was unknown to the competitor and ended up being in excess of a mile. After completing the run, the teams were allowed to remove their masks and continue on, faced with tasks along the route which consisted of cutting timber logs and then carrying them; hauling Bangalore crates; completing an M-15 relay, tire flip, picket pounding, dummy carry and other engineer-related obstacles.

"The most challenging event is the X-mile run. You are tired from competing for two days and all of the events during the run are physically and mentally challenging," Stanley said.

Historically, sappers are experts at demolishing, overcoming or bypassing fortification systems. They have fought in every American war. The term sapper was derived from "sapeurs" of the French military. Today the British, French, Indian and American armies use the term.

"Although I didn't win, my team placed in the top 10. To me, being the 'Best Sapper' means that the winning team stood out among all of the other teams," said Stanley, who has been in the military for nine years.

Win or lose the competition, Stanley, his teammate and the others reached the pinnacle of success first by becoming a sapper. Through the contest, they demonstrated that they had the extra something far outside the ordinary - that drive, that desire to be the absolute best at what they do.