The 20th Engineers executed two deployments to Iraq. Click one of the periods below to visit information on a particular deployment.

---



Task Force Lumberjack


October 2012 to July 2013
< UNDER CONSTRUCTION >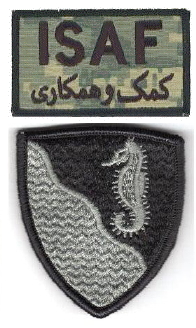 On xx October 2012 the 20th Engineers arrived at Kandahar Air Field, Afghanistan, under the command of Lt. Col. Jason Kelly. The battalion was flown from Fort Hood to Kyrgyzstan, then was moved into Afghanistan.


On xx October 2012 the 20th Engineers, as Task Force Lumberjack, assumed multiple missions throughout southern Afghanistan: route clearance, construction, and training the Afghan Army. The 20th Engineers were part of Regional Command South, part of the International Security Assistance Force (ISAF), a component of the North Atlantic Treaty Organization (NATO).

The task organization of Task Force Lumberjack in Afghanistan changed from time to time. The 510th Engineer Company and 584th Engineer Company, normally assigned to the 20th Engineers at Fort Hood, deployed separately from the battalion headquarters and were never part of Task Force Lumberjack in Afghanistan. Three company-sized elements were originally attached to Task Force Lumberjack in Afghanistan: 569? 229? 819? 151st?



Click on any of the unit symbols to see information on unit personnel and operations
[these may not be all the correct units--requires updating] .








An article from the Killen Daily Herald, 27 February 2013:

The 20th Engineer Battalion is making a positive impact on the future of Afghanistan, said Lt. Col. Jason Kelly, battalion commander.

"We are playing an important part in the Afghan end game. Soldiers understand that and they are giving nothing but their best every day," Kelly said during a phone interview from Kandahar Airfield on Friday.

The "Lumberjack" Battalion, which falls under Fort Hood's 36th Engineer Brigade, is five months through a nine-month rotation in Afghanistan's Regional Command-South.

The battalion deployed as Task Force Lumberjack in October with its own headquarters and support companies. The other five companies to fall under Lumberjack are four Army National Guard units from Massachusetts, Wisconsin, North Carolina and Florida, and one active-duty sapper company from Fort Campbell, Ky.

"We did a lot of work up front to ensure that we created what I refer to as a smart and healthy organization," Kelly said. "Smart as in doing the right things the right way, and healthy in the sense that it is void of confusion, misunderstanding and miscommunication."

Two companies that fall under the battalion in garrison were deployed to the same region, but under different battalions. Both recently returned to Fort Hood.

"I would come into meetings and listen in to folks talk about my companies," Kelly said. "I was really proud to hear how the companies we were responsible for training were doing."

Play key role

As the only multi-functional engineer battalion in the region, the 20th Engineers not only perform route clearance, but also a construction mission and play a major role in the development of the Afghan National Army engineers.

In its previous Afghanistan deployment, Kelly said the unit focused only on route clearance. The deployment before that in Iraq, was strictly construction.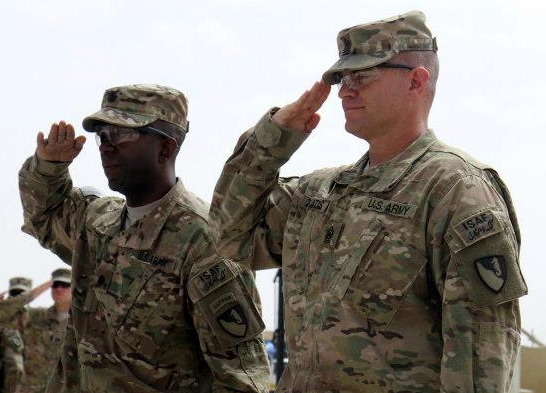 Battalion Commander, Lt. Col. Jason Kelly - and Battalion Command Sergeant Major Joseph Zokaitis



"What's different is we have our hands in everything that's important," Kelly said. "There's not an article I read that I can't say we do a little bit of that."

On a given day, Lumberjack soldiers can be found as far north as Tarin Kot down to the Pakistan border, meaning soldiers are expected to travel long distances across unknown territory.

"We have established a reputation as a can-do organization and one that Regional Command-South comes to and anticipates and expects superior performance," Kelly said. "Our mission, in terms of route clearance, is to provide freedom in movement in support of expeditionary logistics."

Kelly said the unit has encountered more than 300 roadside bomb events, and while there have been injuries, techniques, equipment and training have been key to staying safe.

"Certainly, we are without doubt in harm's way," he said.

Support mission

The Lumberjack construction mission has often been in support of the ongoing base closure and realignment initiative, which will help U.S. forces pull out of Afghanistan by 2014, as mandated by President Barack Obama.

"With the end of this mission and the transition to Afghan independence looming, some places you have to increase capacity and others we're either transferring or closing," Kelly said. "That effort requires engineers to do their part. So we have done a great deal of construction to increase capacity and some locations and reduce it at others."

This mission also includes early stages of retrograde operations. The battalion must identify any excess equipment or material and ensuring it is either consumed, reused, reduced or re-entered into the Army system.

Training Afghan soldiers has been one of the most rewarding aspects of the mission, Kelly said.

"We have established a symbiotic relationship with the Afghans and are conducting missions together. We are well on our way to stepping back as they step forward," Kelly said. "But transitions are tough and I think we are in a period of transition. ... It's not about us. We're not being measured by what we do. It's about what the Afghans are doing."

While days can be long and the work difficult, the battalion takes the 20th day of each month to celebrate "Lumberjack Day." Soldiers can barbecue and relax a bit for the day. Kelly also uses this time to hand out awards and conduct re-enlistments.

As much as soldiers anticipate Lumberjack Day, it's their redeployment to Fort Hood they are counting down toward.

"I would say that families of the Lumberjack Battalion ... can and should be proud of what the soldiers are doing," Kelly said. "They are without a doubt making a difference and we look forward to reuniting with our loved ones on Cameron Field in a few months."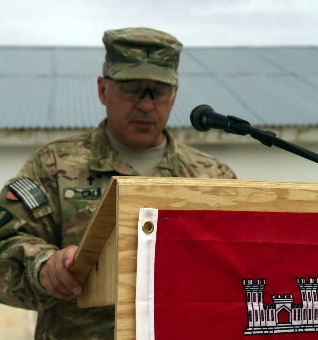 &nbsp &nbsp &nbsp &nbsp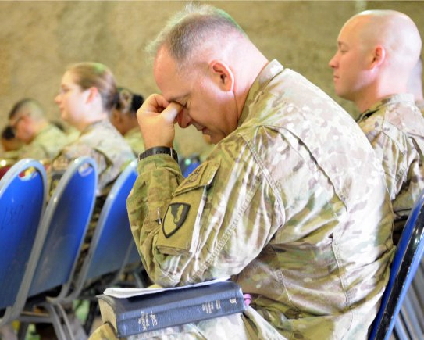 Battalion Chaplain, Captain William Cale
At left, at the "transfer of authority" ceremony for the 870th and 819th Engineer Companies
At right, at Easter holy day services


---



Redeployment From Afghanistan



On 26 June 2013, Task Force Lumberjack executed a "transfer of authority" ceremony to Task Force Iron Fist (4th Engineer Battalion, 555th Engineer Brigade), and began preparations to redeploy to Fort Hood.

The 20th Engineers had earned yet another campaign streamer, Afghanistan - Consolidation II.


---